Sing Squad - Edie's YouTube kids channel
Check out SING SQUAD, Edie's new YouTube channel just for kids! Miss Edie teaches kids songs and popular nursery rhymes in a fun sing along style!
Greetings!
My DIY very-indie video for SAVE OUR SHIP is now on YouTube! Equipped with my handy dandy iPhone5, I convinced my sister, mom and future-brother-in-law to participate in some cinematic adventures! Despite the heat, we had a lot of fun shooting this around Los Angeles. So many people got a kick seeing Batman. Please watch and leave a comment.
In other news, last June's Donut Party at The Cinema Bar was a hit! So much fun playing with my band The Just Around Towners (Tom Gramlich - guitar, Robert Greffey - bass, Joey Stafford - drums). So we're gonna do it again! This time we've booked a Saturday night at The Cinema Bar. Put us in your calendar for September 30. 
Donut T-shirts now available! So you may be asking, "Edie, what's up with the donuts?" I thought it would be fun to create a tee featuring lyrics from my song "Save Our Ship." Here I am modeling my shirt the day the shipment arrived.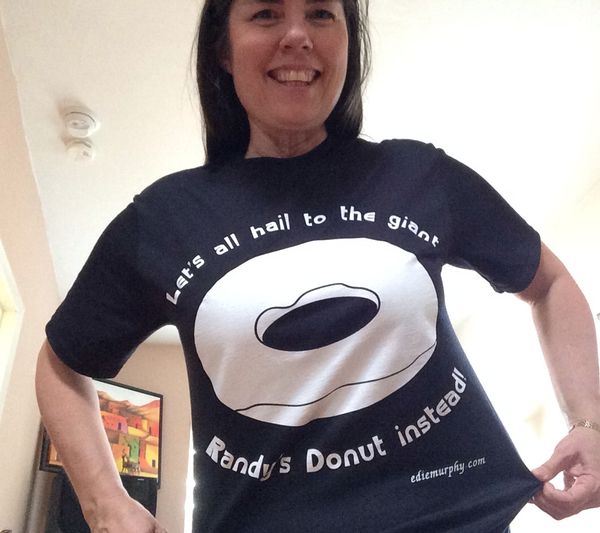 PAST NEWS:
Been keeping super busy recording new material and composing music for my other website www.royaltyfreemusicroom.com, which is a compilation of my royalty free music that can be used by anyone for any media project such as YouTube videos, game apps and more.
 
Plus, I'm very proud to be a part of the LA music series called
Live At Lockett's
, which made it's debut June 16, 2015 here: 
www.youtube.com/channel/UCQ9FCCddJ92SofeTWKnz8EQ
.
Live at Lockett's is an intimate concert series filmed in Christopher Lockett's living room. One camera, one lens, no zooms, no cuts, not even a microphone in frame. Just a lone shotgun mic overhead in a c-stand. Nothing between the performer and the audience. Think of it as visual field recordings, albeit reflecting the production values of Lockett's years as a cinematographer and director. It features 23 performers from Los Angeles' eclectic roots music and poetry scenes. 3 songs or poems each. Each a standalone video.

One of the songs I perform in the series is a solo acoustic version of this spooky tune "Heed My Warning."